THE BEER MAKING SET FOR BEGINNERS
Do you want to brew your beer yourself? Then you have come to the right place at BrauFässchen! We have developed beer brewing sets and cider making sets with so that you can easily become a master brewer - or make your friends and relatives become one! Our brew keg is the perfect gift. And best of all: the fresh home brew is ready after just one week!
DISCOVER OUR PRODUCT ASSORTMENT!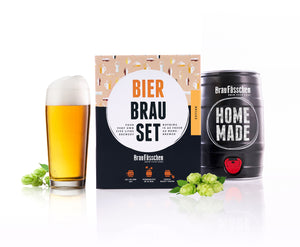 BEER MAKING SETS
Choose from 8 different types of beer from Pilsner, to traditional Bavarian Wheat Beer to Octoberfest-Style Beer, IPA and more.
DISCOVER NOW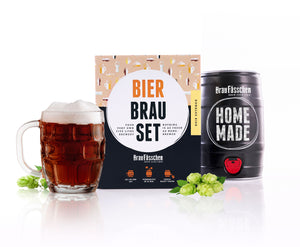 CIDER MAKING SETS
The perfect drink for a summer party, a girls evening or a bachelor party. With the BrauFässchen cider making set you can brew 5 liters of cider yourself.
DISCOVER NOW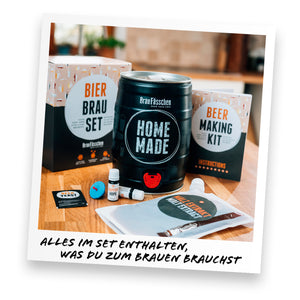 EVERYTHING YOU NEED IS INCLUDED
We developed the sets especially for beginners and optimized the brewing process so that home brewing works faster and easier than ever before. When you have received your BrauFässchen set, you can start right away.
DISCOVER MORE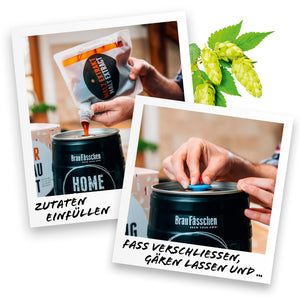 JUST BREW IT YOURSELF!
No previous knowledge is required to brew with our brewing making sets. You mix the supplied ingredients with water in the barrel, close the valve and let the beer ferment for five days at room temperature. The sugar in the malt extract is converted into alcohol and carbonic acid. Then put it in the fridge for two days to ripen. Just click here for detailed step-by-step instructions.
HERE TO THE INSTRUCTIONS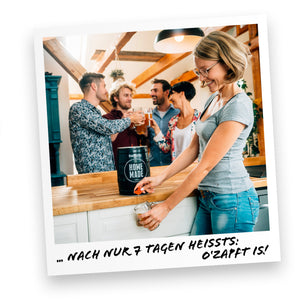 AFTER 7 DAYS YOU BEER IS READY!
The traditional brewing process usually takes four to six weeks, but don't worry: we developed the BrauFässchen brewing making set for hobby brewers who are in a hurry. With no other set you can brew so quickly, we have already done many of the steps in the brewing process for you. You only have to invest ten minutes of effective time, after which you let the beer ferment for five days and mature for two days. And after just a week it is said: O'zapft is!
BROWSE NOW
THIS IS HOW IT WORKS
We have optimized the brewing process and the ingredients so that you can brew your own beer even as a beginner. The traditional brewing process is complex and usually takes 4-6 weeks. With this kit you can tap your beer straight from the keg after just one week. Simply pour all the ingredients into the barrel together with water. Close the keg with the valve and let it stand for 5 days at room temperature for fermentation. Then place your keg in the fridge for 2 days to mature your beer. After just a week, you can tap and enjoy your self-brewed beer.
THE PERFECT GIFT
Our beer and cider making kits are the ideal gift for a birthday, Christmas or Father's Day. Every dad is guaranteed to be happy about this Father's Day gift. And of course the beer making kit is the perfect gift for everyone who loves beer or has always wanted to brew their own craft beer. We wish you good luck and say cheers!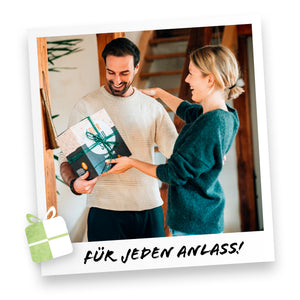 What ingredients are included in the beer making set?
Almost everything you need for brewing is included in our sets. You only need to add tap water or still water (no carbonated water). Thanks to our special keg, you do not need sterile bottles to fill the finished beer, as you can tap the beer directly from the keg and close it again.
TO THE VOUCHERS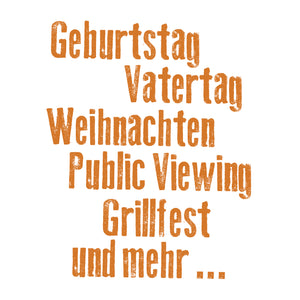 5-Liter-keg and pressure valve
In addition to the empty brewing keg, which holds 5 liters, you will receive a special valve developed by us, which ensures optimal barrel pressure. This means that after brewing, no more carbonation has to be added, which would be difficult to implement at home.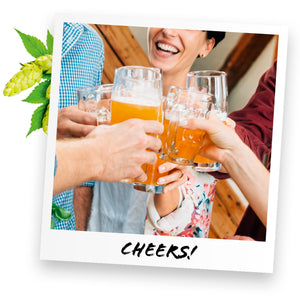 Beer ingredients
To brew your beer, you get all the ingredients in the right amount from us: the malt extract, which is nothing but condiment in a thickened form. Depending on the type of beer, you can also get flavors and woods, for example from craft beer or our experiment sets. You can find all our different types of classics, pale ale and special editions in our shop.
TO THE SHOP
THE BRAUFÄSSCHEN BESTSELLERS
Discover our bestsellers, these are the products our customers love the most!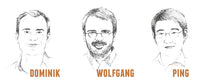 THE STORY OF BRAUFÄSSCHEN
It has been 10 years since Dominik, Ping and Wolfgang students in Munich shared an idea: Why not brew your own hop juice? The three of them quickly found out how complex and time-consuming the brewing process is. But the challenge was up! They worked on it until it was there: the birth of BrauFässchen and with it the quick and easy home brewing set. How your business was going uphill and what BrauFässchen is doing today - read more about the BrauFässchen success story.
READ MORE
FOLLOW US ON INSTAGRAM #BRAUFAESSCHEN